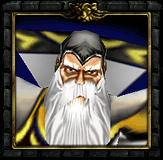 the Archmagi represent the pinnacle of magical
power. Weaving their intricate enchantments,
these crotchety old wizards are called upon to
defend humanity with all the magical powers at
their disposal. Mounted atop their trusty steeds,
the Archmagi brandish ancient staves that serve
to channel their fierce energies in battle. Though
gruff and slightly aloof, these experienced
wizards are a heartening sight upon any
battlefield where the fate of humanity lies in
peril.
The Archmage is very easy to kill. Like the
Undead Lich, the Archmage can be killed in 1-2
turns when surrounded. Always keep the Archmage away from the enemy and run whenever melee units attack or attempt to
surround him. Players with poor control will find
they lose the Archmage a lot when facing good
players.
This Arcmage is a kind of Hero!