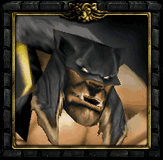 The beastmaster is a wilderness warrior who has
developed an uncanny rapport with animals.
Though truly fearsome in battle, the
beastmaster can be quite gentle when dealing
with creatures of the wild. A beastmaster
typically travels with one or more animal
companions such as hawks and bears who show
incredible loyalty to their humanoid friend.
Though a beastmaster prefers to spend his time
in the wild with his animal companions, he is
not averse to venturing into civilized lands when
the need arises. As long as animals may be
found where he travels, the beastmaster is at
home.

.
The Beastmaster has a special abilty: Summon Eagle and Bear.The Summon Unit (eagle or bear)increase hp,speed, and attack by +1 than normal eagle or bear