A creation that was inspired. Primal vampires that are all the more dangerous. They live in Chasms, Dead Volcanoes, or "rifts".
The
Darklings
are small, feral vampires that hunt and feed upon unsuspecting prey. Those they don't kill, they bring back to the hive for their Matron to feed...
Darkling
Cost: 2
Hp: 10
Attack: 7
Range: 1
Armor: 0
Pierce Armor: 0
Sight: 4 (No eyes, but has biothermal sensors in it's head to detect living prey)
Speed: 4 (4: mountainwalking) it's only obstacle is water
Spell Resistance: 0%
Dodge Counter: 50%
Dodge Melee: 50%
Dodge Ranged: 50%
Action/Turn:2
Ablities: Lifelink, Regeneration, vulnerable to fire, immune to poison
Their
Matron
, the hive queen and her daughters, are superiorly intelligent vampires that possesses uncanny agility and innate magical abilities. The unfortunate souls they feed upon, join the hordes of Darklings under their command!
Matron Active Effects: Lifelink, Regeneration, Immune to poison, Flammable
Cost: 8
Hp: 35
Attack: 16
Range: 1
Armor: 3
Pierce: 5
Speed: 4 (flying)
Vision: 6
Action/Turn: 2
Bonuses: same as vampire
Spells:
Convert: 30% chance, range 3
Dark Burst: range 6
Shadow Trickery: Invisible to enemies for 3 turns
Summon Darkling: summons 1 Darkling, permanent (needs a corpse)
Dark Healing: Heal 10hp, undead only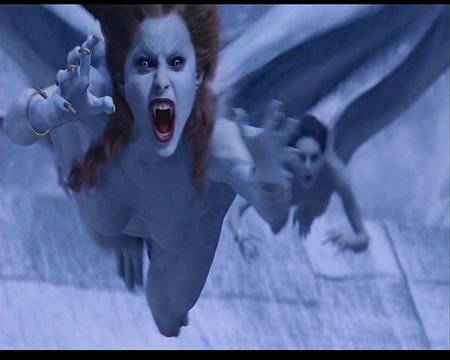 The
Hive Leviathan
is the personal protector of the Matron. He was the Matron's mate in terms of creating her daughters. While not as nimble, he makes up for it by being nigh invulnerable, and brutally ferocious. He doesn't bother draining his victims, he crushes them into jelly, then eats what is left.
Description: Almost blind, but almost invulnerable. This creature is a terror to behold! But Scholars have been able to uncover 1 weakness, FIRE!!!
Leviathan
Cost: 12
Hp: 100
Attack: 10 (30 when enraged), AOE 2
Range: 1
Armor: 10
Pierce: 10
Speed: 2 (6 when enraged)
Vision: 2 (almost blind, must be guided towards it's targets)
Action/Turn: 1 (3 when enraged)
Bonuses: vs buildings 250%, vs mega buildings 7000%, flesh and blood units 50%
Vulnerable to fire and poison
Spell: RAGE: (+20Attack, 3x speed, +2 actions) duration 2, cooldown 3
Sanguine Servants
are Vampire wannabes who take to travelling with the hunters. They are known for being cunning, cannablistic, and effective for light raids, they also become food for the Darklings if the designated prey escapes or otherwise drives them off. A human who works with vampires but it not actually turned, they are useful because they can walk in the daylight. They do the vampires' dirty work
Sanguine Servant
Cost: 1
Hp: 12
Attack: 6
Range: 3
Armor: 0
Pierce: 0
Speed: 3
Vision: 4
Action/Turn: 1
Bonuses: same as skeleton
Arch Necromancer
: Even in death, there is experimentation. These powerful Necromancers experimented upon vampires and created the first Matron as well as the lesser Vampires, the Darklings. This, they have become one of the more nefarious beings in the Undead hordes, buffing their allies and hindering their enemies.
Arch Necromancer
Cost: 6
Hp: 24
Attack: 8
Range: 1
Armor: 1
Pierce: 1
Speed: 3
Vision: 5
Action/Turn: 1
Spells: ...
Dark Regeneration: 30%
Advanced Reanimation: same as animation, but makes a chance of animating lich (mage corpse), vampire (Corpse with sword) ghoul (corpse), or Armored Fire skull Thrower (corpse with bow) (10%)
Curse: Range 6, duration 3 turns
Soulbreaker Lifelink
Soulbreaker Strengthen