Initial disclaimer:
Dwarves break the multiplayer lobby. Puss and I were in live chat when we made this game, and only took the lobby down for less than 10 seconds, and only after getting permission to do so.
If you make a multiplayer game with dwarves, you are responsible for the time you take the multiplayer lobby down!!!
Be absolutely sure your opponent will join within the minute, because Daniel doesn't need 2 hours worth of emails reporting crashed games because your partner didn't join until then.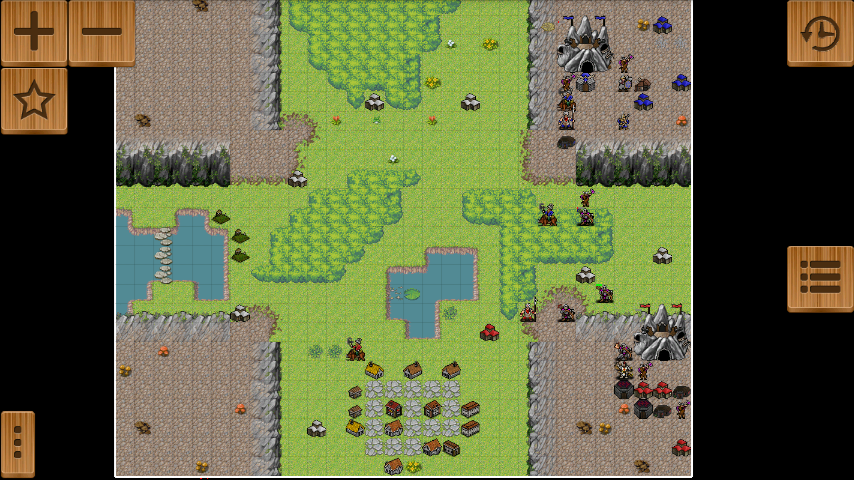 Opening moves were typical enough. Standard expansion and building moves. Puss has chosen to build a shooting stand, a barracks, and later a tavern, making a pretty generic setup with basic ranged, basic melee, and some support casters. He also started construction of a kingdom under the mountain (needs a shorter name, like mountain stronghold) which, it must be noted, takes 39 worker turns. I've built 2 taverns and 2 rune masons and begun construction of a kingdom for myself.
Having experimented against the ai, I've discovered clerics and alchemists to be a fearsome combination, gifting double strike and strengthen to nearly everything in the dwarven army, from themselves to workers, all the while healing. Clerics are also powerful melee combatants due to strengthen and a bonus against melee infantry.
Our forces have recently met, and it's just a shooting war so far until melee can close in to "discuss" ownership of that middle tc. I've sent my boar rider on an expansion mission to the west, rather than join in the battle. Puss has elected to send his into battle instead, probably hoping it will tip the scales and he can take the middle.